Graduate Programme African Studies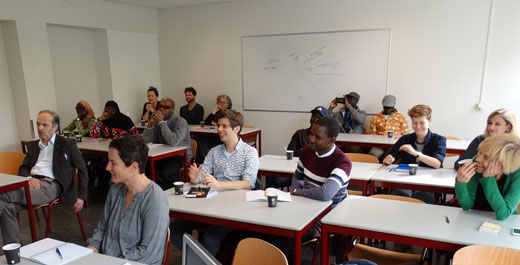 The African Studies Centre Leiden has its own Graduate Programme African Studies (GPAS) for PhD candidates who are supervised by one of the ASCL Professors. The Head of the GPAS is Prof. Rijk van Dijk.
The mission of the GPAS is to enhance the pursuit of PhD degrees in African Studies at Leiden University, by providing the necessary support and intellectual resources to ensure their academic quality, relevance, and originality. In addition, the GPAS seeks to offer academic grounding in African Studies for PhD candidates working on/in Africa at any of the three Faculty Graduate Schools that we collaborate with, viz. the Faculties of Humanities, Social and Behavioural Sciences, and Law. In doing so the GPAS seeks to foster the mutual exchange relationship between its graduate programme and those of the three faculties' Graduate Schools.
The GPAS offers a monthly PhD exchange seminar to its candidates, alternating a review seminar with a presentation seminar.
If you have any questions regarding the GPAS, please contact Maaike Westra (m.a.westra@asc.leidenuniv.nl).
See a list of dissertations on Africa defended at universities in the Netherlands.
Below you will find an overview of PhD candidates who are linked to the African Studies Centre Leiden in the sense that they have a (co)promoter who is a member of the ASCL research staff.
Completed PhD research projects
Posted on 6 March 2012, last modified on 10 September 2019