Library
The library of the African Studies Centre Leiden is a research library, which is also open to the general public. The library consists of a digital and a paper library. The digital library gives access to an unlimited number of publications, the paper library holds 91,000 books about and from Africa, 90,000 journal articles and 1,700 films on DVD.
In line with Leiden University measures, ASCL staff will be working from home until 6 April. They can be reached by email (see organisation). The office is closed, but general questions can be sent to asc@asc.leidenuniv.nl. All events until 1 June have been cancelled. The ASCL Library will be closed until further notice.
Quick search
The search 'All words' page will open in a new window.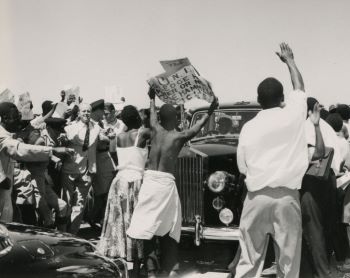 On the occasion of the Africa 2020 year, the ASCL Library has compiled a web dossier about African leaders of independence. It is a 'growing' web dossier that will be expanded monthly. It has now been updated with sections on Madagascar and Somalia. Also check out the timeline of African leaders of independence. Read the web dossier!
In preparation for the Somali Day - postponed until a later date - the ASCL Library has compiled a web dossier on Somali literature. A special section has been added under the header "Acquisition trip 2019", showcasing literary works in Somali purchased at the 12th Hargeysa International Bookfair in Somaliland. The introduction is by ASCL researcher Annachiara Raia. Read the web dossier!
Opening hours
Monday to Friday
9.00 - 17.00
Monday evening until 20.00
(except in July and August)