Library
The library of the African Studies Centre Leiden is a research library, which is also open to the general public. The library consists of a digital and a paper library. The digital library gives access to an unlimited number of publications, the paper library holds 91,000 books about and from Africa, 90,000 journal articles and 1,700 films on DVD.
Quick search
The search 'All words' page will open in a new window.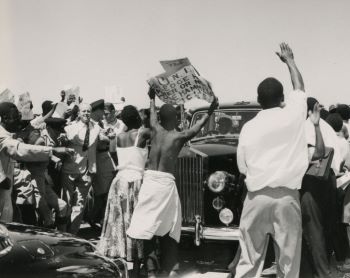 On the occasion of the special 'Africa 2020' year, the ASCL Library has compiled a web dossier about African leaders of independence. It is a 'growing' web dossier that will be expanded monthly. In view of the upcoming conference 'Africa: 60 years of independence' on 30 January, the web dossier has been updated with a general section on independence in Africa and its achievements in the past 60 years. January 2020 also marks the 60th birthday of the independence of Cameroon. Cameroon is therefore highlighted this month. Read the web dossier.
Recently the ASCL Library purchased Kenya: through my father's eyes, number 338 of a limited edition of 2,000 copies by Salim Amin. The book is dedicated to his father, Mohamed Amin (1943-1996), arguably the best documented African photographer and journalist ever. Many of Amin's pictures appear in the Leiden collections and his contribution to our understanding of major events in African history can hardly be underestimated. Read all about it in the latest Libary Highlight!
Opening hours
Monday to Friday
9.00 - 17.00
Monday evening until 20.00
(except in July and August)