Karin Nijenhuis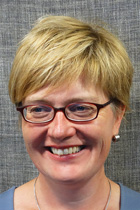 Karin Nijenhuis is the overall education coordinator of the ASCL and co-coordinates the Research Master in African Studies. She also works as a Knowledge Manager at the Secretariat for the Knowledge Platform on Inclusive Development Policies (INCLUDE). INCLUDE promotes evidence-based policymaking on inclusive development in Africa through research, knowledge sharing and policy dialogue. The key theme is how to make growth and development in Africa more inclusive with a specific focus on productive employment, social protection and the role of strategic actors for inclusive development.
Dr. Karin Nijenhuis studied law (University of Groningen) and human geography (University of Amsterdam) and holds a PhD in rural development studies from Wageningen University. Her PhD research was on the mobility of farmers in relation to access to land and conflict in Mali. It can be downloaded here or ordered from our webshop.
Karin has broad experience in research, teaching and (senior) project management. She started as a socio-legal researcher on environmental issues (VU University Amsterdam; University of Amsterdam). She was also involved in courses on environmental law for non-lawyers and she provided workshops at Beninese and Malian universities. Next, she worked as a policy officer at WOTRO Science for Global Development. Later on, she gained extensive experience in managing large projects in West and East Africa for Oxfam Novib and the Center for International Legal Cooperation, including the management of NUFFIC financed programmes to enhance training institutes for legal professionals in Rwanda and Uganda. She furthermore conducted short-term research consultancies to herder-farmer conflict in Sierra Leone and the performance of the Judiciary in Uganda, and she set up the Alodo foundation to enhance primary health care in Benin. Karin taught courses on Law and Governance in Africa within Leiden University. She currently gives incidental lectures on these issues and she co-coordinates the Master course Economy, Geography and Society in Africa. Karin is an experienced moderator.

Dr.
C.T.
(Karin)
Nijenhuis
Former PhD Student, Coordinator RMAS
Project status:
Completed