Gitty Petit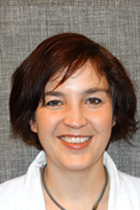 Gitty has been working on her PhD since 2013 on the use of and stories about material culture objects used for protection and curing of illnesses in Dodoma, Tanzania. Her research also looks into this topic in relation to the increasing urbanization in Dodoma, including the roles of education and religion. The study combines the fields of material culture and medical anthropology.
Promotores: prof. dr. Rijk van Dijk (ASCL); prof. dr. Ria Reis (UvA, LUMC)
Keywords: health, traditional healing, material culture, middle income class, urbanization, religion, education, Dodoma.