Mayke Kaag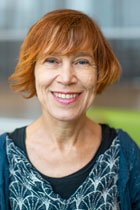 Mayke Kaag is a professor in the anthropology of Islam in Africa and its diaspora at the University of Amsterdam (UvA), and a senior researcher working on the political anthropology of Africa's global connections at the African Studies Centre Leiden. She did her PhD on land use and social change in Senegal (Vrije Universiteit 2001). Her current research focuses primarily on African transnational relations, including land issues, transnational Islamic charities, and engagements with the diaspora. She is the convenor of the collaborative research group 'Africa in the World: Rethinking Africa's Global Connections'. Key publications include: 'The Global Land Grab. Beyond the Hype' (co-edited with Annelies Zoomers, Zed Books 2014); 'Islamic charities from the Arab world in Africa: intercultural encounters of humanitarianism and morality'(2016); 'Linking-in through education?: exploring the educational question in Africa from the perspective of flows and (dis)connections' (2018), 'A plea for kaleidoscopic knowledge production' (together with Miriam Ocadiz, 2019), and 'Reflections on Trust and Trust Making in the Work of Islamic Charities from the Gulf region in Africa' (together with Soumaya Sahla, 2020).
Mayke Kaag is Director of Studies at the ASCL and a member of its Executive Board.
Keywords: Africa in the world, political anthropology, anthropology of Islam, religion and development, migration, land issues.
(Photo credit: Kirsten van Santen).