Joseph Fosu-Ankrah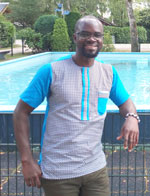 Joseph Fosu-Ankrah is a external PhD candidate in Graduate Programme African Studies. He holds a BA (Hons) in History with Study of Religions and an MPhil in African Studies from the University of Ghana, Legon. He also has training in Diaspora Studies as well as Theological Studies. He is currently part of The Madina Project coordinated by Prof. Dr. Birgit Meyer and Dr. Samuel Ntewusu. The project investigates Modalities of Coexistence in Diversifying Societies, and it is a subsidiary of the larger project Religious Matters in an Entangled World Project coordinated by Prof Dr. Birgit Meyer of Utrecht University. He is being supervised by Prof. Dr. Birgit Meyer and Prof. Dr. Jan-Bart Gewald.
Fosu-Ankrah is working on a thesis which examines religious coexistence from a spatial and material dimension in Madina, a multi-religious and multi-ethnic neighbourhood in Accra. The research studies how everyday religious encounters and the everyday sharing of so-called urban or public spaces like the market, the football field and the lorry park by practitioners of Christianity, Islam and ATR shapes their notion of diversity and tolerance, inclusion and exclusion, and how these inform their perceptions and social relations with each other in terms of coexistence. In doing this, he combines both ethnographic fieldwork, archival research and theoretical reflections from a broad multidisciplinary perspective.
Prior to his candidature at the ASCL, Fosu-Ankrah served as a Research and Teaching Assistant at the Institute of African Studies, Legon where he assisted in the teaching of the undergraduate required course Chieftaincy and Development in Africa between 2014 and 2017. He taught the same course with the Accra Center of the Institute of Distance and Continuing Education at the University of Ghana from 2014 to 2017. He was also affiliated with the University Studies Abroad Consortium, University of Ghana, Legon, where he assisted in teaching the course Society, Government and Politics in Ghana and Africa in 2015 and 2016. He had in 2013 and 2014 also assisted the Koforidua Center of the Institute of Distance and Continuing Education at the University of Ghana in tutoring undergraduate courses on: Modern Trends in Intellectual History, Colonial Rule and African Response: Partition and Pacification, Aspect of World History, 1914-1945, History of Fante States in the 17th Century (I) and History of Fante States in the 17th Century (II)
Research areas/interests
Spatial relations and spatial politics, religion and diversity, conflict and coexistence, religion and media, sense and aesthetics, religion and the public sphere, culture and heritage, religion and corporeality, religion and memory, the land question, youth agency and electoral politics, belonging and human rights.