Karin van Bemmel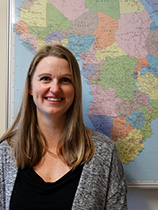 Karin van Bemmel graduated in Anthropology (BSc and MSc) and Psychology (BSc) at Utrecht University. During her studies she focused -among other things- on local needs and emergency aid in Guatemala after severe destructions by Hurricane Stan (2006). Her master thesis (2009) explored the implications of Barack Obama's presidency for a community in western Kenya and was awarded with the 'Nieboerprijs' (thesis award). Thereafter, she conducted a study on medical health for children with mobility handicaps in northern Tanzania on behalf of Njokuti Foundation (2010). In her PhD research (Ghent University/African Studies Centre, 2011-2017) she explored various discourses on nodding syndrome, a poorly understood affliction that affects thousands of children in northern Uganda. Based on this study, she made the film documentary 'Nodding syndrome: an illness in the making'.
Currently, Karin is junior researcher at the African Studies Centre and part of the CRG "Pioneering futures of health and well-being: actors, technologies and social engineering". Her interests include the intersection of culture, art and health and the intertwinement of narratives on illness, politics and conflict. Furthermore, she is co-founder of 'Wandering Songs', a project that creates a platform for artists in (post-)conflict areas.
Keywords: East Africa, conceptualizations, illness, politics, conflict, arts and medicine, film, music
Dr.
K.
(Karin)
van
Bemmel
Project status:
Completed