Research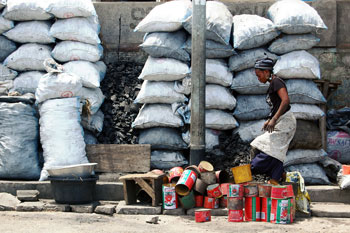 Find our research staff.
The ASCL's research programme 'Strident Africa: Societal and Environmental Change in the Context of 50 Centuries of History' examines the dramatic changes taking place on the continent in terms of population growth, urbanisation, the role of external actors and the impact on the environment, taking into account the historical context. In it, the ASCL draws on the rich heritage of its past research and makes use of its network both within and outside of Leiden University (LeidenASA and ASCL Community).
The research programme is thematically reflected in the ASCL Chairs, the Collaborative Research Groups and the ASCL research projects.
More information about the previous research programme (2012-2018).
Photo: bags of rice in James Town, Ghana. Photo by Mirena Radulova.
Posted on 29 November 2011, last modified on 1 November 2022