Marleen Dekker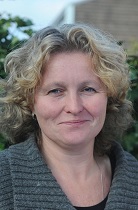 Marleen Dekker is Professor of Inclusive Development in Africa at Leiden University. She is trained as a human geographer and holds a PhD in Development Economics. Marleen's research is interdisciplinary in nature and analyzes the role of social networks in accessing markets and local socio-economic development. The focus of her work is on access to formal and informal insurance networks, including community-based health insurance and intra-household resource sharing. Marleen has co-organized several international events including a conference on micro-insurance, seminars on land reform in Zimbabwe, women's bargaining power and economic development, and social protection. Furthermore, she has collaborated in several international research projects in Zimbabwe, Ethiopia, Togo and Nigeria on social networks, insurance, marriage and intra-household collaboration. Since 2014, Marleen also coordinates the INCLUDE Secretariat, the Knowledge Platform on Inclusive Development Policies in Africa. The platform supports research, shares relevant knowledge with policy makers and practitioners and organizes international policy dialogues on inclusive development themes both in The Netherlands and in African countries.
Keywords: inclusive development, markets, risk, social networks, polygyny, land reform.
2017: Professor Inclusive Development in Africa at Leiden University (read her Inaugural Address)
2014: Coordinator INCLUDE Knowledge Platform
2007: Senior researcher African Studies Centre Leiden
2004-2007: Post-doctoral Researcher Vrije Universiteit
1999-2004: PhD research Risk Resettlement and Relations in Zimbabwe
1994: MA Human Geography (with distinction)
Prof. Dr.
M.
(Marleen)
Dekker