Annachiara Raia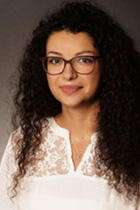 Annachiara Raia has been University Lecturer in the LUCAS department of the Faculty of Humanities and at the African Studies Centre Leiden since March 2019.
The main focus of her research is Swahili literature and, in particular, the Swahili adaptation of one of the most widely travelled stories of mankind, the Islamic Story of Joseph, Qiṣat Yūsuf). This has allowed her to study 18th- and 19th-century Swahili manuscripts and encouraged her inquiries into the intertextual relations between texts, authorship and authorial interventions.
In Kenya, she worked with northern Swahili dialect poets in the Lamu archipelago (Lamu, Pate and Siu islands). The archipelago hosts also a sizeable community of Somali diaspora, who will be the focus of her future investigations from a historical and literary perspective. Her interest in the practices of composing and performing poetry have led her to view texts not as entities per se, but as travelling artworks entangled with their context and a network of artists. Annachiara is currently investigating the intellectual practices and knowledge production relating to dialogue texts. Her recent research focused on the polyhedral figure of Mahmoud Ahmed Abdulkadir, a still living imam and poet from Lamu, who collected the "literature of ideas" in his private library that has shaped his religious affiliation, education, knowledge and current role in the community he represents.
From 2017 to 2019, Annachiara was a research associate at the University of Bayreuth, where she pursued a double PhD program in African Languages and Literatures. Since January 2018, she has been a member of the editorial staff of Matatu Journal for African Culture and Society (Brill).
Keywords: African languages, comparative studies, Islamic poetry in Africa, orality and literacy, Swahili literature and intellectual practices