Members of the Board of Governors
The ASCL's Board of Governors consists of the following members:
Prof. Dr. M.R. Rutgers (chair), Dean of the Faculty of Humanities, Leiden University
Prof. Dr P.F. Wouters, Dean of the Faculty of Social and Behavioural Sciences, Leiden University
Prof. Dr. J.M. Otto, Director of the Van Vollenhoven Institute for Law, Governance, and Development, Leiden University
The Board of Governors as it functioned until the integration with Leiden University had its final meeting in May 2016, after which it resigned. The members of this board were:
Ms. A.M.A. van Ardenne-van der Hoeven (Chair), Former Minister for Development Cooperation
Prof. dr. J.B. Opschoor (Vice-chair), The Institute of Social Studies and the VU University, Amsterdam
Dr. B.S.M. Berendsen, Former ambassador to Tanzania
Ms. J. Groen, Journalist with the Volkskrant
Anton Lenstra, Former Vice President of Unilever
The 'Stichting Afrika-Studiecentrum' (Foundation African Studies Centre) continues to exist as the owner of the books and journals collected by the ASC Library until January 2016 (which are leased to Leiden University, but will remain in the library of the ASCL). It is also closely involved in the activities of the Societal Advisory Panel for the ASCL. Members of the Board of that Foundation are Bernard Berendsen, Hans Opschoor and Marina Diboma.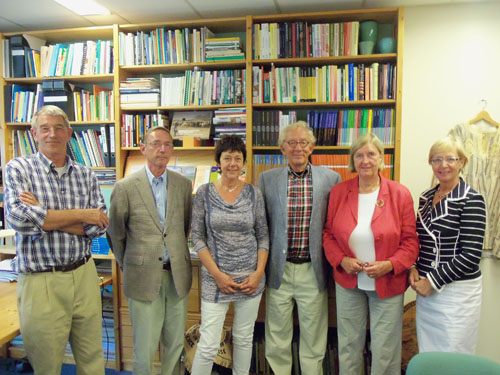 The Board of Governors in 2012
From left to right: Anton Lenstra, Bernard Berendsen, Janny Groen, Hans Opschoor, Trix Ambags, and Agnes van Ardenne
Former members
Ms. B.E.A. Ambags
Former ambassador to Burkina Faso and Zimbabwe
M.J. van den Berg
Former member of the European Parliament for the Social Democratic Party; former director Novib
Ms. K.G. Ferrier
Politician and Former Member of Parliament representing the CDA party
Prof. Mr. P.H. Kooijmans
† 13 februari 2013
Former International Court of Justice, The Hague; former Minister of Foreign Affairs
Ms. Prof (em.) dr. G. Lycklama à Nijeholt
† 18 november 2014

Former Member of the Senate of the States General; former professor at the Institute of Social Studies

Ms. M.M. Monteiro
Former Director Hivos; former director Personal Services Overseas, The Hague
Ir. Ing. J.I.R. Roest
Former director of Vlisco BV
Prof. dr. A. de Ruijter
Dean Faculty of Social Sciences, University of Tilburg
Ms. E.M.A. Schmitz
Former judge, Zwolle Law Courts; former Deputy Minister of Justice and Mayor of Haarlem
E.W. Wits
Former representative of Heineken for Africa, Amsterdam
Posted on 5 March, 2012. Last modified on February 7, 2019