Marleen Dekker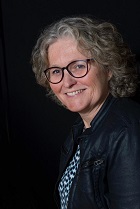 Marleen Dekker is Professor of Inclusive Development in Africa at Leiden University and Director of the African Studies Centre Leiden. She is trained as a human geographer and holds a PhD in Development Economics. Marleen Dekker's research is interdisciplinary in nature and analyses the role of social norms and networks in accessing markets and local socio-economic development. The focus of her work is on behavioural determinants of access to and use of formal and informal financial services, including informal insurance networks, community-based health insurance and intra-household resource sharing. In a new initiative, Marleen facilitates interdisciplinary collaboration with natural scientists to develop African air quality and climate change models.
Marleen has collaborated in several international research projects in Zimbabwe, Ethiopia, Togo, Kenya, Zambia and Nigeria on social networks, insurance, CSO advocacy, marriage and intra-household collaboration. From 2014 to 2021, Marleen was the coordinator of the Secretariat of INCLUDE, the Knowledge Platform on Inclusive Development Policies in Africa. The platform supports research, shares relevant knowledge with policy makers and practitioners and organises international policy dialogues on inclusive development themes both in The Netherlands and in African countries.
She is the academic coordinator of the LDE minor African Dynamics and the academic lead of the EUniWell SPOC: Decentring global epistemologies of Well-being. Marleen is a also member of INCLUDE knowledge platform, the AIV-COS as well as the NWO-NWA-SDG initiative group.
Keywords: inclusive development, markets, social networks, marriage, financial inclusion, land reform, air quality and climate change.
2021: Director African Studies Centre Leiden
2017: Professor Inclusive Development in Africa at Leiden University (read her Inaugural Address)
2014: Coordinator INCLUDE Knowledge Platform
2007: Senior researcher African Studies Centre Leiden
2004-2007: Post-doctoral Researcher Vrije Universiteit
1999-2004: PhD research Risk Resettlement and Relations in Zimbabwe
1994: MA Human Geography (with distinction)
CV Marleen Dekker (pdf)
(Photo credit: Sandra Hazenberg).