Azeb Amha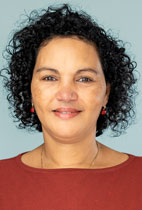 Dr Azeb Amha is a senior researcher and lecturer at the African Studies Centre Leiden. Her interest is in grammar, linguistic typology and in the interdisciplinary fields of anthropological linguistics and sociolinguistics.
Azeb did her BA and MA in linguistics at Addis Ababa University. She obtained her PhD in Linguistics from Leiden University, with her thesis on the grammar of the Maale language of Ethiopia. She publishes on Amharic, Maale, Oyda, Woalitta and Zargulla languages as well as on comparative research on the Omotic languages of the Afroasiatic phylum. Through her linguistic documentation projects, Azeb has produced audio-visual digital archives on various cultural practices, including work-songs, animal-directed speech, whistled-names, narratives and conversations on cultural and technical knowledge on house construction and farming among the Oyda and Zargula people in southern Ethiopia.
Azeb teaches in the BA and Research MA African Studies programmes on the topics language and power, linguistic diversity and language policy, research methods and inter-cultural communication. She served for 15 years as editor of the Journal of African Languages and Linguistics (JALL). Azeb is chair of the Research Master in African Studies at Leiden University and since 2020, she is head of the Netherlands Association of African Studies (NVAS).
Keywords: African Studies, grammatical description and typology of Omotic languages, language and power, intercultural communication, multilingualism and language endangerment, Afro-Asiatic languages, Ethiopia, Horn of Africa