Annachiara Raia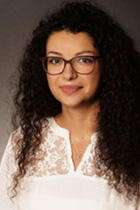 Annachiara Raia is an Africanist specialised in Swahili Muslim intellectual traditions with a background in the languages, history and cultures of the Islamic countries. She has studied Classical Arabic, Swahili and Somali languages and literature at the University of Naples 'L'Orientale' (Italy). She holds a PhD (2018 cum laude) in Literatures in African Languages and Asian, African and Mediterranean Studies, in cotutelle between the University of Naples 'L'Orientale' and the Bayreuth International Graduate School of African Studies at Bayreuth University (Germany).
From April 2017 until February 2019 she was wissenschaftliche Mitarbeiterin at the University of Bayreuth working as a specialist of Swahili Language and Literature at the Faculty of Languages and Literatures - Literatures in African languages. Since 2019 she is senior researcher and assistant professor in African Literature, both at the Centre for the Arts in Society (LUCAS) and the African Studies Centre in Leiden.
Her academic activities include not only teaching and conceptualising courses on African literature, postcolonial theories, oral traditions, Swahili libraries and heritage for the African Studies programmes, but also extensive archival and ethnographic research in East Africa with, artists, thinkers, librarians and family-run bookshops located in Kenya and Tanzania.
Annachiara is co-convenor of the CRG African-language archives - Unpacking local epistemologies at the ASCL and principal investigator for two ongoing research projects: The cultural preservation of the Ustadh Mau Digital Archive (UMADA) project and the NWO Talent Programme Veni SSH 2021 research on Portable Islam: Swahili Literary Networks in the 20th century Indian Ocean.
As part of her broader transdisciplinary research, she is affiliated with the Leiden University Centre for the Study of Islam in Society (LUCIS) where the research programme Travelling Islam: The Circulation of Ideas in Africa was established. She is also a cluster member in the project 'Multiple Artworks - Multiple Indian Ocean' (MAMIO) at Bayreuth University and a member of the CRG Africa in the World - Rethinking Africa's Global Connections at the ASCL.
She is author of Rewriting Yusuf (Rüdiger Köppe Verlag, 2020), a monograph that spans a wide range of world-local literatures. This study was awarded the Kulturpreis Bayern 2018 by the Bavarian Ministry for Research and Art and inspired the theme for the Zenobia Foundation's 6th Annual Conference in 2021 in Amsterdam.
Keywords: African-languages literatures, manuscript studies, digital archives, Islamic literary networks in Africa, orality and literacy, Swahili literature, Indian Ocean intellectual practices