Duncan Money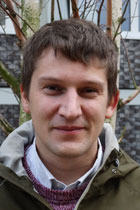 Duncan Money is a historian of Central and Southern Africa during the 19th and 20th century. His research focuses primarily on the mining industry and, in particular, the Zambian Copperbelt. Duncan's main interests are in labour, race and global history, specifically the ways in which the mining industry connected seemingly disparate and distant places across the globe and the consequences that emanated from this. Alongside his research, Duncan Money manages a project to preserve and digitize the archives of the Mineworkers' Union of Zambia.
Previously, Duncan was a postdoctoral fellow at the International Studies Group, University of the Free State and completed his PhD at the University of Oxford. He has taught widely on African, imperial and global history for both undergraduates and master's students at the University of Oxford, Stanford University's Oxford campus, the University of Zambia and the University of the Free State.
In July 2017, Duncan Money was at the African Studies Centre Leiden as a self-financed visiting fellow.
More information can be found here.
Keywords: labour, mining, migration, race.
Dr.
D.J.
(Duncan)
Money
Former research staff, Former visiting fellow