Madi Ditmars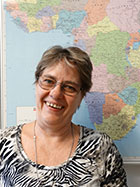 Madi Ditmars is a South African anthropologist, who specialised in education. She has an in-depth understanding of the challenges surrounding education and capacity building in contemporary Africa. Her experience ranges from customising curricula and material design, to the development of assessment strategies and quality control systems. To continue delivering educational services in her country of birth, she has expanded her expertise to the electronic learning environment. She has migrated existing learning modules to blended- and online formats, tutors higher education students and moderates online learners.
Additionally she has a particular interest in sustainable human development practices, and integrated development planning in all spheres of government.
At the ASCL Madi Ditmars is involved in setting up the LDE Minor African Studies.