Maaike Westra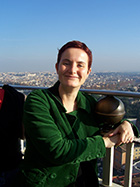 Maaike Westra is a policy officer at the ASCL. She is also the coordinator of the Graduate Programme African Studies, the Visiting Fellowship programme and LeidenASA, and she is involved in the Minor Frugal Innovation (practical matters).
Displaying 1 - 1 of 1
Leiden: African Studies Centre Leiden (ASCL), 2020.