Africa Thesis Award 2008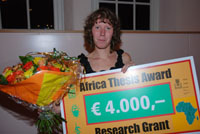 The Africa Thesis Award for 2008 has been won by Janneke Barten (Wageningen University) for her thesis entitled "Families in movement. Transformation of the family in urban Mali, with a focus on intercontinental mobility".
Full text of thesis (pdf, 1.5MB)
Summary of thesis (pdf, 20KB)
Eerste prijs
De jury is bijzonder onder de indruk van de kwaliteit van de scriptie van Janneke Barten. In deze scriptie wordt gekeken naar veranderende familierelaties in Malinese steden en onder Malinese migranten in Nederland. De veranderingen zijn volgens de auteur: het grote belang van consumptie, veranderende seksuele normen, opkomend individualisme en conflicten met de extended family. Het is 'niet meer zoals vroeger'. Malinese migranten in Nederland zijn ver weg van de vaak beknellende sociale normen in Mali en geven op nieuwe manieren vorm aan familierelaties. Ze onderhouden wel contacten (vooral per telefoon), maar zijn ook in staat om veeleisende familieleden op afstand te houden. Mannen geven de voorkeur aan een Europese verblijfsvergunning (soms door middel van relaties met oudere Nederlandse vrouwen) boven de verantwoordelijkheid voor een kinderrijk gezin in Mali. Familierelaties zijn zeer dynamisch, waarbij mondiale mobiliteit en een toenemend individualisme een belangrijke rol spelen. In de woorden van Janneke: "De tijd dat er in de sociologie of antropologie over 'de Afrikaanse familie' gesproken kon worden, is voorbij".
In de ogen van de jury weet Janneke een zeer goed beeld te geven van de problematiek van Malinese migranten, door ze zowel in Mali als in Nederland diepgaand te interviewen en veel Malinezen aan het woord te laten. Deze scriptie is maatschappelijk relevant, want het beschrijft de problemen van Afrikaanse migranten die naar Europa komen en we kennen allemaal de beelden van de jonge mannen en vrouwen die per boot of anderszins de oversteek wagen. Als ze er wel in slagen hier te komen is er nog steeds het probleem om hier te integreren. De problemen die daarbij spelen worden in deze scriptie pijnlijk duidelijk. Als enig punt van kritiek meldt de jury dat het theoretisch kader beperkt was en niet consequent wordt toegepast.
Toch heeft de jury gemeend om Janneke de eerste prijs toe te kennen. Ze heeft heel diepgaande interviews gehouden en zo uniek materiaal verzameld. Janneke weet steeds de goede vragen te stellen en goed te luisteren. Deze scriptie is duidelijk voor een breder publiek relevant en migratie is een hot topic in Afrika en in Nederland: "Her work helps to understand these migrants, and provides the perspectives from two sides, those who want to leave Africa and those struggling to find their feet in Europe". Deze scriptie is zeer origineel, en prachtig geschreven.
Last modified on September 28, 2017