Winner Africa Thesis Award 2022: Robert Okello. 'Rural Women's Legal Empowerment Through Digital Technology: A Case Study from Northern Uganda'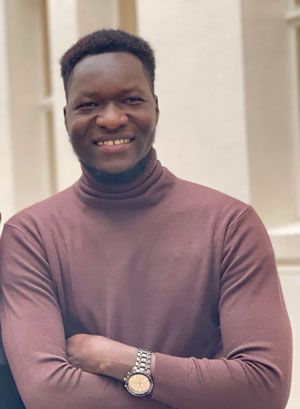 The Africa Thesis Award committee is happy to announce that the winner of the 2022 award is Robert Okello (MA Development Studies, International Institute of Social Studies, Erasmus University Rotterdam) for his thesis 'Rural Women's Legal Empowerment Through Digital Technology: A Case Study from Northern Uganda' (read the thesis, pdf). In this excellent and carefully researched thesis, Mr Okello eloquently elaborates on the possibilities of digital technology when offering legal assistance to women in Northern Uganda. He convincingly shows how digital technology can indeed offer meaningful support to certain (groups of) women, while also pointing at the risks posed by these technologies, e.g. to exclude others. The award consists of a prize of 500 euros, publication of the thesis in the ASCL's African Studies Collection and an invitation to present the thesis at an award ceremony in 2023.
This year a total of twenty-five high-quality master's theses were submitted to the Africa Thesis Award. The submitted theses were all based on independent research related to Africa and represented a diverse range of disciplinary fields.
Jury report

The study examined the opportunities and challenges of digital transformation of access to justice as a means of legal empowerment of rural women in Northern Uganda. Due to the COVID-19 pandemic, Mr Okello was forced to organise the fieldwork part of his research from afar. He organised Focus Group Discussions through research assistance in Northern Uganda, and managed to obtain very interesting, somewhat contrasting, views and understandings of the legal assistance via digital means, despite this clear limitation in data collection. His professional experience, personal network, and personal interest in the topic witnessing his mother and her need for legal assistance in the face of a family dispute about land, made him personally involved in the topic. Yet the thesis shows his mastery of the theoretical as well as the empirical debates on the topic. His careful analysis is well grounded, as the illustrative and telling quotes taken from the Focus Group discussions make evident.
The thesis offers the much-needed nuance to the possibilities of 'disruptive' digital technology. After all, academic debates about digital technology remain somewhat entrenched between positive protagonists who remain blind to digital perils, and those who are dismissive of technological solutions, failing to consider the potential of certain steps forward. Okello takes the debate a step further by offering a nuanced reading of the promise of digital technology in the context of Northern Uganda. In the process, Okello gives voice to women in need of justice, a group that despite being the target group of many outside interventions, remains still largely unheard.
Read the abstract of the thesis (pdf).
Runner-up
As a close runner-up, Priscilla Namwanje from Delft University of Technology deserves a very special mention for her thesis 'The New (In)Formal. Leveraging Formal and Informal practices towards the just, resilient and sustainable urban development of Kampala'. Her thesis on urbanisation as a largely informal dynamic in rapidly growing Kampala, Uganda, is an attractively visualised story about the need for and complexity of urban planning in making a more just and resilient city. The committee is particularly impressed by how Ms Namwanje managed to visualise complex data and present the argument into a thesis that is not only very attractive to read but also successfully creates a new visual code of presenting results.
Jury
The ASCL would like to thank the jury of the Africa Thesis Award 2022 for their careful reading of all theses and their well-thought-through final decision: Dr. ir. Lotje de Vries (chair, Wageningen University), Mandipa Ndlovu (African Studies Centre Leiden); Marnix de Bruyne (freelance journalist), Prof. dr. Margriet van der Waal (University of Amsterdam) and Dr. Agnieszka Kazimierczuk (The Broker).
Ceremony
The thesis award ceremony will be held in the course of 2023. More information will follow on our website.
Posted on 19 January 2023, last modified on 2 February 2023