Inge Butter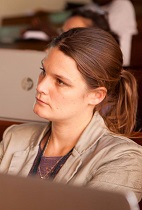 Inge Butter (1983) studied cultural anthropology at the University of Leiden and has a special interest in the Arabic language and culture. Her MA fieldwork took place in Cairo, Egypt among the informal garbage collectors, the zabbaleen. See her thesis (2006) 'An Informal Waste Management System in Cairo'. Since March 2011 she has been a PhD Candidate linked to the University of Leiden and the African Studies Centre, researching a group of Chadian semi-sedentary nomads.
Watch the short film La mobilité transnationale et le réseau économique des nomades de Batha, a primary reflection on her fieldwork between 2011 and 2013.
Photo: Sjoerd Sijsma.