Onyekachi Nnabuihe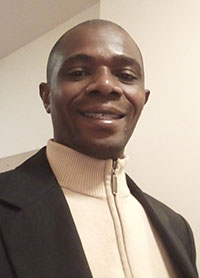 Onyekachi E. Nnabuihe holds a PhD in Peace and Conflict Studies. He is a Senior Lecturer in the Department of Criminology, Security, Peace and Conflict Studies, Caleb University, Lagos, Nigeria and a visiting research fellow, African Studies Centre Leiden (ASCL), Netherlands.
He is an awardee of the 2022-2023 Carnegie Corporation of New York's Future Africa Research Leadership Programme (FAR-Leaf) hosted at the Future Africa Institute, University of Pretoria. Dr Nnabuihe was holder, 2020/2021 Edinburgh Catalyst Fellows' Non-Residential Fellowship, 2019 Edinburgh Catalyst fellow, Centre for African Studies, University of Edinburgh; fellow, Brown International Advanced Research Institutes (BIARI), Brown University. He was a lead researcher of the Land Grabs in Historical Perspective Research Group that won the BIARI Collaborative Research Grant in 2016.
His research interest is on peace, conflict, governance, institutions, security and development studies, resource and identity conflicts. He has attended several conferences and workshops both locally and internationally and has published in reputable journals including African Affairs, Planning Perspectives, Canadian Journal of African Studies and India Quarterly. He has ongoing researches focusing on climate change, diaspora, ethnic minority struggles, militarisation, security sector reforms, banditry, gender and border security.
His fellowship project at ASCL focuses on the interaction between rituals, festivals, politics and conflicts. It reconstructs the growing narrative of violence as ways of asserting ethno-religious group ownership of African cities. This is crucial for African scholarship in the humanities and social sciennces since it prioritises performative rituals and festivals rather than violence as frontiers of power, belonging and politics of urban space appropriation.