Library Weekly
The ASCL's Library Weekly is our library's weekly spotlight on African people and events. Inspired by the SciHiBlog, this service is based on information retrieved from Wikipedia and Wikidata and is completed with selected titles from the ASCL Library Catalogue.
N.B. The weeklies are not updated and reflect the state of information at a given point in time.
---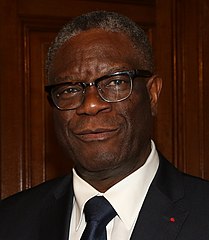 On 1 March 1955 Congolese gynecologist and human rights activist Denis Mukwege was born. He founded and works in Panzi Hospital in Bukavu, Democratic Republic of Congo, where he specializes in the treatment of women who have become a victim of sexual violence in war. Dr Mukwege's efforts to bring international attention to the prevalent use of sexual violence as a weapon of war in the DRC and his demands for the perpetrators to be brought to justice has resulted in him becoming a renowned activist for human rights and gender equality both within the DRC and internationally.
In 2018, Mukwege and Iraqi Yazidi human rights activist Nadia Murad were jointly awarded the Nobel Peace Prize for "their efforts to end the use of sexual violence as a weapon of war and armed conflict". ...
(From the English Wikipedia, edited.)
Selected publications
Resources and Rape: Congo's (toxic) Discursive Complex / Ann Laudati, Charlotte Mertens.
In: African studies review, 2019-12, Vol.62 (4), p.57-82
Unsung /Anette Brolenius. Eindhoven : Lecturia, [2019]
Beyond the hype? The response to sexual violence in the Democratic Republic of the Congo in 2011 and 2014 / Thea Hilhorst, N. Douma.
In: Disasters, 2018-01-01, Vol.42 (S1), p.S79-S98.
Guerre et viol : deux faces de fléaux traumatiques en République démocratique du Congo / Marcel Otita Likongo. - Paris : L'Harmattan, cop. 2015
L'homme qui répare les femmes = The man who mends women / Thierry Michel. [Brussel] : Twin Pics ; [Luik] : Les Films de la Passerelle, [2015]
Rape as a weapon of war : combating sexual violence and impunity in the Democratic Republic of the Congo, and the way forward / Sophocles Kitharidis.
In: African human rights law journal, 2015, Vol.15 (2), p.449-472.
Sexual violence as a weapon of war? : perceptions, prescriptions, problems in the Congo and beyond / Maria Eriksson Baaz, Maria Stern. - London [etc.] : Zed Books [etc.], cop. 2013,
L'homme qui répare les femmes : violences sexuelles au Congo : le combat du docteur Mukwege / Colette Braeckman. - Bruxelles : André Versaille, cop. 2012.
Dr. Denis Mukwege : Van Heuven Goedhart-penning 2010 : voor de hulp aan slachtoffers van seksueel geweld in de Democratische Republiek Congo / Marcia Luyten, Sven Torfinn, Herman Volker. - Den Haag : Stichting Vluchteling, cop. 2010
Patterns of sexual violence in Eastern Democratic Republic of Congo: reports from survivors presenting to Panzi Hospital in 2006 - Susan A. Bartels, Jennifer A. Scott, Denis Mukwege, Robert I. Lipton, Michael J. Vanrooyen, Jennifer Leaning.
In: Conflict and health, 2010-05-05, Vol.4 (1), p.9-9; 2010
For more publications see the ASCL Library Catalogue.
See also : Dr. Denis Mukwege Foundation & David Mukwege's publication list on Wikidata.
Denis Mukwege: Nobel Peace Prize lecture 2018
Timeline Denis Mukwege via Wikidata
Posted on 1 March 2021, last modified on 2 March 2021
Pages
Posted on 11 January 2021, last modified on 17 October 2023