Library Weekly
The ASCL's Library Weekly is our library's weekly spotlight on African people and events. Inspired by the SciHiBlog, this service is based on information retrieved from Wikipedia and Wikidata and is completed with selected titles from the ASCL Library Catalogue.
---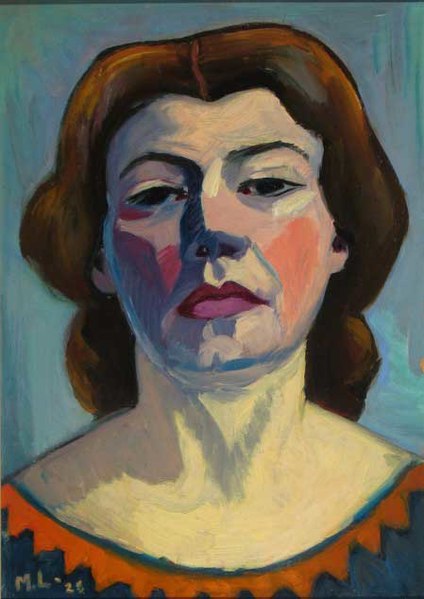 On 17 May 1973, South African painter and printmaker Maria Magdalena ('Maggie') Laubser died in Strand, Western Cape, at the age of 87. She is generally considered, along with Irma Stern, to be responsible for the introduction of Expressionism to South Africa. Maggie Laubser was born on the wheat farm Bloublommetjieskloof near Malmesbury in the Swartland on 14 April 1886. After attending the farm school Rocklands, she left for boarding school at Bloemhof Seminary, Stellenbosch, where she was introduced to the art of drawing.
In 1913 Maggie Laubser went to Europe to study art. She lived and studied in the Netherlands, England, Belgium, Italy, and Germany. It was in Berlin, from 1922 to 1924, that she came into contact with German Expressionism and was encouraged by Karl Schmidt-Rottluff. The works of Emil Nolde, Max Pechstein, Franz Marc and Erich Waske were available to her and clarified her ambitions. She singled out Franz Marc of Der Blaue Reiter and Nolde, Schmidt-Rottluff and Pechstein of Die Brücke as significant to her personality, although she would claim not to have been influenced by them. The extent of their influence is evident in that she came closest to the German Expressionist style during these years, in which she produced a series of ten lithographs called 'Visionen'. Her brushwork and colour choice became more expressive and less consistent with her earlier works, using angular features and coloured shapes to both her landscape paintings and portraits.
In 1924 Laubser returned to South Africa and settled at Oortmanspost, the family farm. Her work, like that of Irma Stern, met with fierce criticism, most notably from Bernard Lewis of Die Burger and The Cape Times. Although she was treated harshly by the press, Laubser was elected to the selection panel of the prestigious British Empire Exhibition, the convener of which was M. L. du Toit, without her parents living to see this success. The Empire Exhibition was a quadrennial exposition, which in 1936 was held in Milner Park, Johannesburg, and it was representative of the best South Africa had to offer. Laubser was active from as early as 1900 and continued working uninterrupted until her death in 1973. The catalogue raisonné compiled by Dalene Marais contains 1784 individual works. Her predominant style of work is generally accepted by many authors to be Expressionist, but there are also identifiable elements of Fauvism at work, and a pastoralism that belie the German Expressionist prototypes to which Laubser was exposed.
(Source: English Wikipedia, abbreviated)
Laubser bequeathed approximately 140 works to Stellenbosch University (SU). The Stellenbosch University Museum has digitised its Maggie Laubser art collection. To view her work click here.
Selected publications
The inception, rise and fall of the Sasol Art Museum of the University of Stellenbosch/Die ontstaan, opbou en aftakeling van die Sasol Kunsmuseum van die Universiteit Stellenbosch / Jan Giliomee.
In: Tydskrif vir geesteswetenskappe, vol.62, no. 1, p.220, 2022
n Ikonologiese Ondersoek Na Die Beeldmotiewe in Die Kuns van Maggie Laubser / Elizabeth Josephine Miles.
Ph.D. (Art History)--University of Johannesburg, 2014
http://hdl.handle.net/10210/11387
Collecting South African art in the 1930s : the role of Martin du Toit / Jeanne van Eeden.
Historia : amptelike orgaan , vol. 53, no. 1, p. 162-196 : foto's, 2008
Die vormende invloed van die Duitse Ekspressionisme op die skilderkuns van drie Suid-Afrikaanse kunstenaars Irma Stern, Maggie Laubser en Pranas Domsaitis / Ute Maria Ursula Scholz.
Dissertation (MA)--University of Pretoria, 1975.
http://hdl.handle.net/2263/56022
Die skilder-werk van Maggie Laubser / E. Miles.
Historia, vol.10, no. 3, p.192-200, 1965
Die lewe en skilderwerk van Maggie Laubser / Elizabeth Josephine Botha.
Dissertation (MA)--University of Pretoria, 1964.
http://hdl.handle.net/2263/59055
See also Remembering Maggie Laubser : A visual teaser of a multi-media presentation commissioned by Strauss&Co.
Artist Focus: Maggie Laubser, 29-3-2022
Strauss & Co Senior Art Specialist Ian Hunter discusses four important highlights by South African artist Maggie Laubser
Timeline of 20th-century South African women artists via DBpedia and Wikidata
Posted on 17 May 2022, last modified on 16 May 2022
Pages
Posted on 11 January 2021, last modified on 8 June 2021