Collection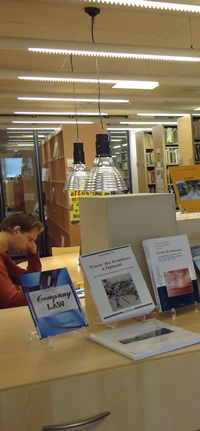 The African Studies Centre Leiden library collection consists of approximately 91,000 books, including many rare items gathered on regular acquisition trips to Africa. It includes 'grey literature', like government reports, reports of international organizations, brochures, and pamphlets. We also have a substantial collection of African literature. Other materials:
Journals
More than 400 current serials subscriptions, most of which are (also available as) online journals. The online catalogue contains titles of about 90,000 journal articles, many open online and/or with abstracts.
Newspapers
Current African newspapers in print, 40 newspapers on microfiche and 65 old African newspapers (1800-1922) online in the database African Newspapers (campus access) on Newsbank.com.
Films
About 1700 documentaries and feature films on video and DVD available to the public. Consult the Ethnographic Video Online database to view classic and contemporary documentaries (campus access).
Photographs
About 1000 photographs online available to the public via Wikimedia Commons (mainly on Sierra Leone in the 1930s and Senegal and Guinea-Bissau in the early 1970s).
Development plans
9500 microfiches of development plans by African states (only accessible in the Library).
Archives
The ASC library collection also comprises a small but steadily growing archival section.
Coverage of the collection
Geographical
North and Sub-Saharan Africa
Disciplinary
· anthropology and sociology
· history
· philosophy
· economics
· women's studies
· political science
· management and policy studies
· law
· administration
· religion
· education
· socio-linguistics
· literature and art
Languages
· English
· French
· German
· Dutch
· Spanish
· Portuguese
· Italian
· Afrikaans
Also see our collection development policy.
Posted on 15 November, 2011. Last modified on January 18, 2018