Library Weekly
The ASCL's Library Weekly is our library's weekly spotlight on African people and events. Inspired by the SciHiBlog, this service is based on information retrieved from Wikipedia and Wikidata and is completed with selected titles from the ASCL Library Catalogue.
N.B. The weeklies are not updated and reflect the state of information at a given point in time.
---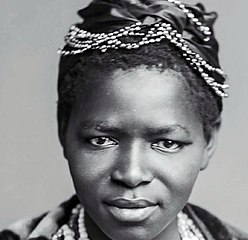 On 16 October 1939, South African religious leader, social and political activist Charlotte Makgomo (née Mannya) Maxeke died in Johannesburg at the age of 68. She was the first black woman to graduate with a university degree in South Africa with a B.Sc. from Wilberforce University Ohio in 1903. Maxeke dedicated her life to the struggle for women's rights and education for all.
Charlotte Maxeke was likely born in Ga-Ramokgopa, Limpopo on 7 April 1871 and grew up in Fort Beaufort, Eastern Cape. At age 8, she began her primary school classes at a missionary school in Uitenhage. She excelled in Dutch and English, mathematics and music. From Uitenhage, Maxeke moved to Port Elizabeth to study at the Edward Memorial School. she excelled and completed her secondary school education in record time, achieving the highest possible grades. In 1885, after the discovery of diamonds, Maxeke moved to Kimberley with her family.
After arriving in Kimberley in 1885, she began teaching fundamentals of indigenous languages to expatriates, and of basic English to black African work foremen. Maxeke and her sister Katie joined the African Jubilee Choir in 1891. Her talent attracted the attention of Mr. K. V. Bam, a local choir master who was organizing an African choir to tour Europe. Maxeke's rousing success after her first solo performance in Kimberley Town Hall immediately resulted in her appointment to the Europe-bound choir operation. The group left Kimberley in early 1896 and sang to numerous audiences in major cities of Europe. At the conclusion of the European tour, the choir toured North America.
During the choir's tour of the United States, the group was abandoned by their escort in Cleveland. Bishop Daniel A. Payne, of the African Methodist Church (AME) in Ohio, a former missionary in the Cape, organized the churchgoers to provide for the abandoned troupe's continued stay in America. They were made to settle for a church scholarship to Wilberforce University, the AME Church University in Xenia, Ohio, in US. After obtaining her B.sc degree from the Wilberforce University in 1903, she became the first black South African woman to earn a degree.
Shortly after her return to South Africa in 1902, Maxeke began her involvement in anti-colonial politics. She, along with two other individuals from Transvaal, attended an early South African Native National Congress meeting, and was one of the few women present. She was notably the first South African Social worker, appointed as Welfare Officer to the Johannesburg Magisterial Court and involved in juvenile work. Maxeke attended the formal launch of the South African Native National Congress in Bloemfontein in 1912. She also became active in movements against pass laws through her political activities. During the Bloemfontein anti-pass campaign, Maxeke served as an impetus towards eventual protest by organizing women against the pass laws.
In 1918, Maxeke founded the Bantu Women's League (BWL) which later became part of the African National Congress Women's League. This decision stemmed from her involvement in anti-pass law demonstrations. The BWL under Maxeke was a grassroots movement that served as a vehicle for taking up grievances from a largely poor and rural base. Maxeke's BWL also demanded better working conditions for women farm workers. Maxeke participated with protests related to low wages at Witwatersrand and eventually joined the Industrial and Commercial Workers Union in 1920. Her leadership skills prompted the South African Ministry of Education to call her to call her to testify before several government commissions in Johannesburg on matters concerning African education. This was a first for any African of any gender. She continued to be involved in many multiracial groups fighting against the Apartheid System and for women's rights.
In 1928 Maxeke set up an employment agency for Africans in Johannesburg and also would begin service as a juvenile parole officer. Maxeke remained somewhat active in South African politics until her death, serving as a leader of the ANC in the 1930s. Maxeke was also instrumental in the foundation of the National Council of African Women, which served as a way of protecting the welfare of Africans inside South Africa.
(Source: Wikipedia, accessed on 16 October 2023)
Selected publications
Social justice at apartheid's dawn : African women intellectuals and the quest to save the nation / Dwane Y. Curry. - Cham, Switzerland : Palgrave Macmillan, [2022]
The fabric of dissent: public intellectuals in South Africa / edited by V. Reddy and others. - Cape Town South Africa: BestRed an imprint of HSRC Press, 2020
Beauty of the heart : the life and times of Charlotte Mannya Maxeke / Zubeida Jaffer. - Bloemfontein : Sun Press, 2016
One hundred years of the ANC : debating liberation histories today / Arianna Lissoni. - Johannesburg : Wits University Press, 2012
Her-stories : hidden histories of women of faith in Africa / Isabel Apawo and others. - Pietermaritzburg : Cluster, 2002
South African women's passive resistance : Bloemfontein, 1913 / Julia Wells.
In: Symposium on rebellion and social protest in Africa : ninth annual spring symposium, April 22-24, 1982.
See also The Life and Legacy of Charlotte Mannya-Maxeke / Parliament of South Africa, Charlotte Maxeke on South African History Online and Charlotte Maxeke, 'Mother of Black Freedom' on DW (as part of DW's special series "African Roots").
The life of Charlotte Mannya Maxeke
Timeline of South African women activists via DBpedia and Wikidata
Posted on 16 October 2023, last modified on 17 October 2023
Pages
Posted on 11 January 2021, last modified on 17 October 2023