Library Weekly
The ASCL's Library Weekly is our library's weekly spotlight on African people and events. Inspired by the SciHiBlog, this service is based on information retrieved from Wikipedia and Wikidata and is completed with selected titles from the ASCL Library Catalogue.
N.B. The weeklies are not updated and reflect the state of information at a given point in time.
---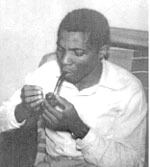 On 20 September 1967, Nigerian poet, teacher, and librarian Christopher Ifekandu Okigbo died fighting for the independence of Biafra. He is today widely acknowledged as an outstanding postcolonial English-language African poet and one of the major modernist writers of the 20th century.
Okigbo was born on 16 August 1932, in Ojoto. His father was a teacher in Catholic missionary schools, and Okigbo spent his early years moving from station to station. Okigbo graduated from Government College Umuahia (in present Abia State, Nigeria) two years after Chinua Achebe, having earned himself a reputation as both a voracious reader and a versatile athlete. The following year, he was accepted to University College in Ibadan (now known as University of Ibadan). Originally intending to study Medicine, he switched to Classics in his second year.
Upon graduating in 1956, he held a succession of jobs in various locations throughout the country, while making his first forays into poetry. He worked at the Nigerian Tobacco Company, United Africa Company, the Fiditi Grammar School (where he taught Latin), and finally as Assistant Librarian at the University of Nigeria in Nsukka, where he helped to found the African Authors Association. During those years, he began publishing his work in various journals, notably Black Orpheus, a literary journal intended to bring together the best works of African and African-American writers.
In 1963, he left Nsukka to assume the position of West African Representative of Cambridge University Press at Ibadan, a position affording the opportunity to travel frequently to the United Kingdom, where he attracted further attention. At Ibadan, he became an active member of the Mbari literary club, and completed, composed or published the works of his mature years, including 'Limits' (1964), 'Silences' (1962–65), and 'Lament of the Masks' (1964).
With the secession of Biafra, Okigbo immediately joined the new state's military as a volunteer, field-commissioned major. He was killed in action during a major push by Nigerian troops against Nsukka.
(Source: Wikipedia)
Selected publications
The Christopher Okigbo collection : from family heritage to public archive / Obiageli Okigbo, Christopher Okigbo Foundation.
In: African research and documentation, no. 133, p. 20-32, 2018
Christopher Okigbo, 1930-67 : thirsting for sunlight / Obi Nwakanma. - Woodbridge : James Currey ; Ibadan : HEBN Publishers, cop. 2010
The dance of death : Nigerian history and Christopher Okigbo's poetry / Dubem Okafor. - Trenton, N.J. [etc.] : Africa World Press, 1998
Collected poems / Christopher Okigbo, Christopher, Adewale Maja-Pearce. - London : Heinemann, 1986
Critical perspectives on Christopher Okigbo / Ibe Donatus Nwoga. - Washington, D.C. : Three Continents Press, 1984
Christopher Okigbo, 1932-1967 : a bio-bibliography / Joseph C. Anafulu.
In: Research in African literatures, vol. 9, no. 1, p. 65-78, 1978
Christopher Okigbo: creative rhetoric / Sunday O. Anozie. - New York : Africana Pub. Corp, [1972]
Labyrinths, with Path of thunder / Christopher Okigbo. - London [etc.] : Heinemann, 1971
Heavensgate / Christopher Okigbo. - Ibadan : Mbari Publications, 1962
See also: Christopher Okigbo: A Preliminary Inventory of His Papers at the Harry Ransom Center
Timeline of 20-th century Nigerian poets via DBpedia and Wikidata
Posted on 20 September 2023, last modified on 18 September 2023
Pages
Posted on 11 January 2021, last modified on 17 October 2023