Willem Elbers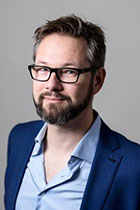 Willem Elbers' research activities are on civil society and lobby and advocacy. He did his PhD on North-South NGO partnerships in Ghana, India and Nicaragua (2012). Since 2014 he is managing the project Breaking down barriers to inclusion: Towards effective lobby and advocacy for children with a disability in cooperation with the Liliane Foundation. This project seeks to understand the factors that shape the outcomes of the lobby and advocacy efforts of local civil society groups. Willem Elbers' research is interdisciplinary in nature, combining methods and insights from political science, public administration and anthropology. He also works at the Radboud University as coordinator of the Advanced Master in International Development (AMID) at Radboud University in Nijmegen.
Displaying 1 - 1 of 1
Den Bosch: Lilianefonds, 2017.