Tanja Hendriks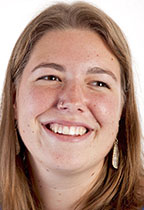 Tanja Hendriks holds a bachelor's degree in Cultural Anthropology (2012) and a master's degree in International Development Studies (2015) from the University of Amsterdam. For the latter she conducted fieldwork in Burundi, focusing on primary school-aged children and the intergenerational transmission of violence and resilience. In 2016 she graduated from Leiden University, having completed the Research Master African Studies. Her research for this programme took place in Malawi, where she looked into (former) street children's conceptions and perceptions of 'home'.
Her main research interests include storytelling, Malawi, ethnography, philosophy of science, linguistic anthropology and the politics of language.
After graduating she worked as a research assistant, assisting Saskia Vossenberg (PhD) with her fieldwork in Malawi on business women, entrepreneurship and inclusive development.
Since August 2016 she has been working for the ASCL as a junior researcher on labour relations and informal workers' organizations in the informal economy in Accra, Ghana. Her research is part of the NWO-funded project: 'Increasing Political Leverage of Informal and Formal Workers' Organizations for Inclusive Development: The cases of Ghana and Benin'.
Keywords: linguistic anthropology, storytelling, ethnography, youth, home, labour relations.