Infosheet: Cameroon at 60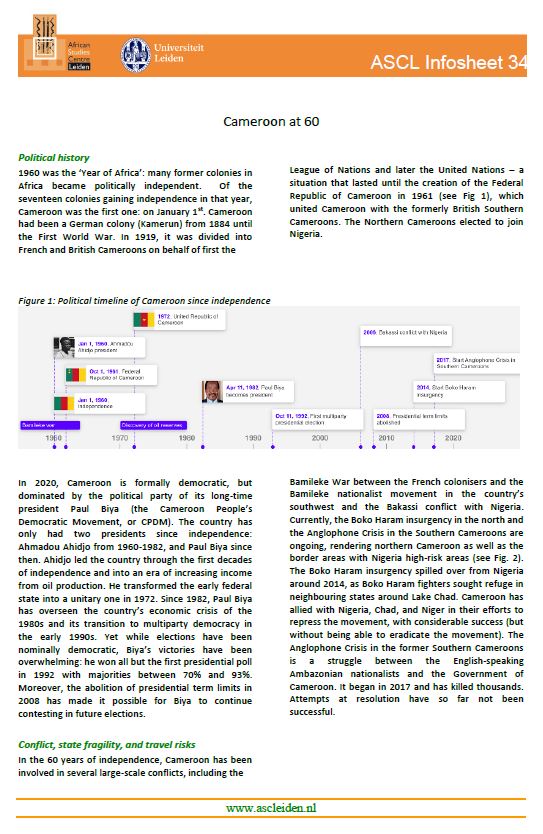 On the occasion of Africa 2020, the ASCL will compile Infosheets on each of the 17 countries that gained independence in 1960. The infosheets will provide particulars and statistics on: political history, state stability/fragility, demography, human development index, trade, agriculture, migration, agglomerations, and regional inequality. The series kicks off with Cameroon.
On 1 January 1960, French Cameroun gained independence from France. On 1 October 1961, the formerly British Southern Cameroons gained independence and joined with French Cameroun to form the Federal Republic of Cameroon.
Author(s) / editor(s)
Ton Dietz, David Ehrhardt, Fenneken Veldkamp
About the author(s) / editor(s)
Ton Dietz was Professor of the Study of African Development at Leiden University from May 2010 until September 2017. Although now officially retired, he is still active as co-chair of the Leiden African Studies Assembly (LeidenASA).
David Ehrhardt is Assistant Professor at Leiden University College The Hague. He is specialised in international development. His research has mainly focused on urban Nigeria. Dr Ehrhardt is co-chair of LeidenASA.
Fenneken Veldkamp is web editor at the African Studies Centre Leiden.
Posted on 23 January 2020, last modified on 24 January 2020