ASCL Community News December 2016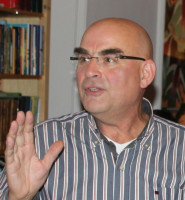 ASCL Community member Jos van Beurden successfully defended his PhD dissertation Treasures in Trusted Hand. Negotiating the future of colonial cultural objects on 30 November 2016 at the VU University Amsterdam. Congratulations Jos!
New publications
Kristen Cheney, Senior Lecturer Children & Youth Studies at the International Institute of Social Studies in The Hague: Crying for Our Elders: African orphanhood in the age of HIV and AIDS, The University of Chicago Press.
Philip Roessler and Harry Verhoeven, School of Foreign Service in Qatar, Georgetown University: Why Comrades Go to War: Liberation Politics and the Outbreak of Africa's Deadliest Conflict, Hurst Publishers.
Posted on 19 December 2016, last modified on 16 February 2017