20 April: Africa Thesis Award ceremony
Primary tabs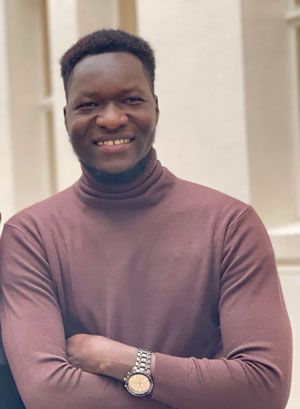 Robert Okello, winner of the Africa Thesis Award 2022, will be handed over his award during a ceremony on 20 April which you can follow online.
Robert wrote his thesis Rural Women's Legal Empowerment Through Digital Technology: A Case Study from Northern Uganda (pdf) for his master Development Studies at the International Institute of Social Studies, Erasmus University Rotterdam. The jury of the Africa Thesis Award committee wrote in its report: 'In this excellent and carefully researched thesis, Mr Okello eloquently elaborates on the possibilities of digital technology when offering legal assistance to women in Northern Uganda. He convincingly shows how digital technology can indeed offer meaningful support to certain (groups of) women, while also pointing at the risks posed by these technologies, e.g. to exclude others.'
The award consists of a prize of 500 euros and publication of the thesis in the ASCL's African Studies Collection. Robert will give a presentation about his thesis before receiving the prize from the chair of the jury, Prof. Margriet van der Waal (University of Amsterdam).
Read an abstract of the jury report.
Read an interview with Robert.
More information about the Africa Thesis Award.
You are welcome to join the online ceremony. The ceremony is part of a larger event for journalists who work on and in Africa. For more information about that event, contact Fenneken Veldkamp at f.veldkamp@asc.leidenuniv.nl
Posted on 6 April 2023, last modified on 19 April 2023