PADev, participatory assessment of development: Ghana, Burkina Faso, Kenya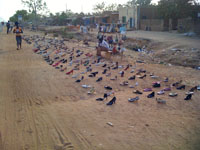 Funded by ICCO, Woord en Daad and Prisma and carried out, with research partners in Burkina Faso and Ghana, at the University of Amsterdam and the Royal Tropical Institute in Amsterdam.
This project, which started in 2007, is developing a new methodology for the participatory assessment of development initiatives. See www.padev.nl. It will continue testing this method elsewhere, particularly in Pokot, Kenya where research was carried out from 1982 onwards on the impact of development initiatives on people's livelihoods. A new round of data collection will start there in 2013 using the PADev methods.
Keywords
Ghana ; Burkina Faso ; Kenya
Funding and cooperation
Funding:
ICCO Woord en Daad Prisma
Cooperation:
University of Amsterdam Royal Tropical Institute in Amsterdam research partners in Burkina Faso and Ghana