Thematic map: Africa: International migration, emigration 2015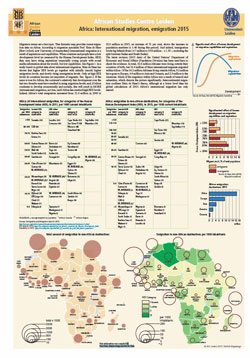 Migration issues are a hot topic. This thematic map provides recent migration data on Africa. According to migration specialist Prof. Hein de Haas (first Oxford, now University of Amsterdam) (international) migration is a result of aspirations and capabilities. When countries and people have a low development level (as measured by the Human Development Index, HDI) they may have rising aspirations (especially young people with social media information about the world), but low capabilities. In a study based on global data about international migration, Hein de Haas has shown that higher HDI levels go together with initially (much) higher emigration levels, and slowly rising immigration levels. Only at high HDI levels do countries become net importers of migrants. If Africa continues to develop economically and socially, this will result in more (international) migration, until Africa has reached high HDI levels.
Author(s) / editor(s)
Ton Dietz, Mayke Kaag, Nel de Vink
About the author(s) / editor(s)
Ton Dietz is the former director of the African Studies Centre Leiden and Em. Professor of the Study of African Development at Leiden University.
Mayke Kaag is a senior researcher at the African Studies Centre Leiden.
Nel de Vink is owner of DeVink MapDesign.
Posted on 22 September 2017, last modified on 21 December 2017