In the Spotlight: PhD defences by Angela Kronenburg García and Harrie Leyten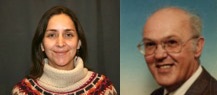 Two PhD candidates that are closely related to the ASC, Angela Kronenburg García and Harrie Leyten, defended their PhD theses this week. Angela defended her thesis Contesting Control. Land and forest in the struggle for Loita Maasai self-government in Kenya at Wageningen University on 13 April. Harrie defended his thesis From idol to art. African 'objects with power': A challenge for missionaries, anthropologists and museum curators at Tilburg University on 15 April.
Angela Kronenburg García (1978) studied Cultural Anthropology and Sociology of Non-Western Societies at the Leiden University, the Netherlands. She wrote a MA thesis on the relationships between Loita Maasai ritual practices and the Naimina Enkiyio forest in Kenya. Her thesis seeks to understand land struggles and forest conflicts in Loita. It examines changing patterns of land access (including land use and land tenure) and land dispute meetings in the context of increasing intervention by outside actors (such as the state and international environmental organizations) on forest and land. The study investigates how these land and forest dynamics are linked to leadership practices in Loita and complex political struggles that go beyond the local level. The analytical approach combines insights from political ecology, legal anthropology, and access & property studies to explore how governmentality, authority and territoriality intersect. The research is funded by the Dutch Organization for Scientific Research (MaGW/NWO). ASC researcher Han van Dijk is promotor.
After his theological studies, Harrie Leyten (1935) worked as a missionary in Ghana for ten years. He studied social anthropology at Oxford University and became Africa curator of the Tropenmuseum in Amsterdam in 1975, and taught at the University of Amsterdam and the Reinwardt Academy in Amsterdam. His thesis has become a reflection of his long career! In it, he deals with questions such as: how have (mostly European and American) anthropologists viewed objects with power since Tyler's theory of Animism in the 19th century? How have African anthropologists in the past decades reacted to these views? The same questions are put with regard to (mostly European) missionaries who have been active in Africa since the middle of the 19th century: how have they viewed (in their perception: pagan) objects with power? How have African theologians in the past decades reacted to these views? Throughout the thesis emphasis is laid on the way material culture has been described and interpreted in books on (traditional) African art. The differences between ethnographies from the colonial era and those of more recent times are amplified. ASC researcher Wouter van Beek is promotor.
Posted on 9 April 2015, last modified on 16 April 2015