Retrospective ASCL 75th anniversary celebration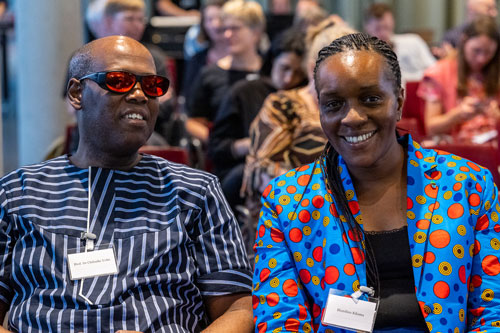 The ASCL celebrated its 75th anniversary on 8 September 2022 at Museum Volkenkunde in Leiden. We look back on a festive day with many interesting discussions with our societal partners, alumnae of African Studies, colleagues from several universities, students and other people interested in Africa and/or the work of the ASCL. Take a look at the photos below, or see the photo album on Facebook. On Facebook you can also find a video of the performance by spoken word artist Yero Gaynaako from Mauritania.
(Photo left: Chibuike Uche and Blandina Kilama. Credit: Monique Shaw)
Read a longer report of the day
Read Jan Abbink's speech on the development of the ASCL's research agenda (PDF).
Take a look at the posters presenting examples of the ASCL's research, library and education programmes.
Read more about the 25 special items from the ASCL Library that were on display.
Read Gerard van de Bruinhorst's presentation on 75 years of library collection development (PDF).
Read the thesis of Africa Thesis Award 2021 winner Tamia Botes (open access).
Click on a photo below to see the enlarged photos (credit: Monique Shaw).
Posted on 9 September 2022, last modified on 9 March 2023