New research project: Ethnographic study on mobile money in Africa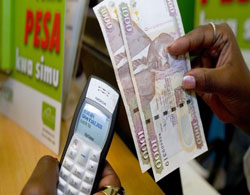 The ASC has been awarded a one-year research project on the attitudes, perceptions and usage of Mobile Money in fourAfrican countries. The project is financed by the International Finance Corporation (IFC), the private sector arm of the World Bank Group (WBG), which in turn is supported by the MasterCard Foundation. The project is explicitly an ethnographic one, in which case studies will be carried out in DR Congo (Kinshasa & Lubumbashi), Zambia (Kitwe, Lusaka & Southern Province), Cameroon (Bamenda & Baaba) and Senegal (Dakar & Louga ). In each country, a team has been set up to carry out fieldwork and deliver output. Among the outputs are 1) written reports based on life histories, interviews and focus group discussions; 2) summary blogs including visual material and short videos.
The project is a mix between academic research and consultancy and brings together anthropologists, young (African) research talent and key players in the industry.
The team
Leiden/London (ASC)
Cameroon
Dr. Walter Gam Nkwi (Team leader)
Emmanuel Ngang
Prof. Abdou Salam Fall (Principal investigator/Team leader)
Moustapha Seye
Khadidiatou Diagne
Mame Diarra Boussou Ndiaye
Zambia (SAIPAR/ASC)
Dr. Marja Hinfelaar (Team leader)
Caesar Cheelo
Edna Kabala-Litana
Dr. Iva Peša
DR Congo
Dr. Sylvie Ayimpam (Team leader)
Dr. Olivier Kahola Tabu
For more information please contact Inge Butter (butteric@ascleiden.nl).
Photo credit: http://paymentsafrika.com/payment-news/mobile/vodacom-and-tigo-agree-on-mobile-money-interoperability/
Posted on 2 October 2015, last modified on 16 November 2015