New exhibition 'La ville africaine'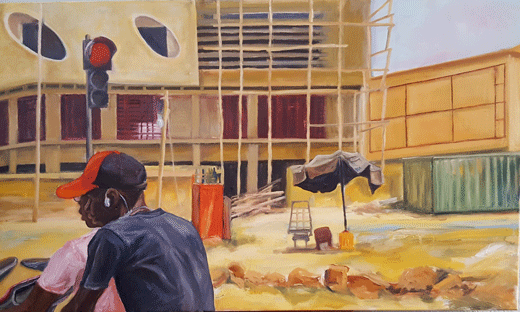 Painting by Cindy van der Aa
This exhibition coincides with the conference The Future of the African City that will be organized in cooperation with African Architecture Matters on 24 January 2019.
In this collective exhibition three artists participate: Cindy van der Aa, Sapin Makengele and Moke-fils (Jean-Marie Mosengo). They show paintings inspired on the African city. The exhibition will be shown in the library (ground floor) and the corridors (3rd floor) of the African Studies Centre Leiden, Pieter de la Court building.
Cindy van der Aa (the Netherlands):
"My recent work is inspired by my travels to Chad (N'Djamena) and Mali (Bamako). I discovered many diverse cultures and expressiveness. I was pleasantly surprised by the positivity and the strong need that people have, to express themselves through art and music. I want to capture this emotion, in the moment and the movement. It reflects what is now and what is coming. Feel life, the beauty, warmth and sincerity, just for a moment..."
Take a look at the list of titles and prices
Sapin Makengele (Congo):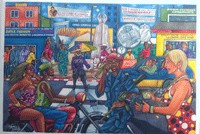 Avec sa force de s'inspirer, Sapin arrive librement de traduire le vécu environnemental sur le coup de son pinceau. Né à Kinshasa en 1980, il commence à dessiner depuis son plus jeune âge, sur les murs, au sol, dans des portails et autres. Surnommé 'le roi du dessin', il devient un grand peintre publicitaire avant de s'aligner, en 2000, dans l'atelier du Maître Chéri Cherin. En 2006 Sapin est invité à la Biennale de l'Art Contemporain de Dakar. Ensuite il collabore avec des universitaires comme assistant de recherche à l'esprit cocréatif. Son travail l'emmène dans différents pays africains, en Europe, aux Etats-Unis et en Asie.
Moke fils (Congo):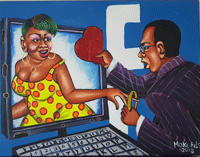 Jean-Marie Mosengwo Odia dit « Moke fils » est né à Kinshasa en 1968 comme fils aîné de l'artiste peintre Mosengwo Kejwamfi, communément appelé « Moke », précurseur de la peinture naïve ou de la rue au Congo. Il profita de l'adhésion de son père au sein de l'Association des Artistes Peintres Populaires pour s'inscrire parmi les grands noms de la peinture populaire congolaise. Ce qui lui permit à participer pour sa première fois à l'exposition KIN MOTO NA BRUXELLES, une exposition organisée par l'Hôtel de Ville de Bruxelles en 2003. Il fut considéré à cette occasion par ses aînés comme étant le chef de file de la nouvelle génération.
Take a look at the list of titles and prices
Date, time and location
02 November 2018

to

31 January 2019
Pieter de la Courtgebouw: Library (ground floor) and Research department (3rd floor)
Posted on 25 October, 2018. Last modified on November 21, 2018