Last articles by Stephen Ellis (1953-2015) published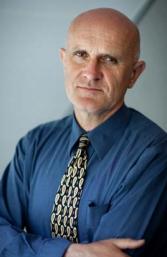 The last two articles that our late colleague Stephen Ellis (1953-2015) completed, have recently been published. His final article, 'Nelson Mandela, the South African Communist Party and the Origins of Umkhonto we Sizwe', concerns Nelson Mandela's relationship to the South African Communist Party (SACP) at the vital moment in the early 1960s when the guerrilla army Umkhonto we Sizwe, later to become the official armed wing of both the SACP and the African National Congress (ANC), was conceived and created. It demonstrates that Umkhonto we Sizwe was essentially a creation of the SACP, as newly available archives reveal.
The other article was published by African Affairs, the journal of which Stephen was a co-editor 2003-2007. The article, co-authored by Mark Shaw (director of the Centre of Criminology, University of Cape Town) is entitled 'Does organized crime exist in Africa?' and has been published Open Access to allow as many people as possible to read it.
Stephen's last book, This Present Darkness: A History of Nigerian Organised Crime, will appear in April 2016.
Posted on 12 November 2015, last modified on 7 December 2015