Just out: thematic map 'Africa at 60'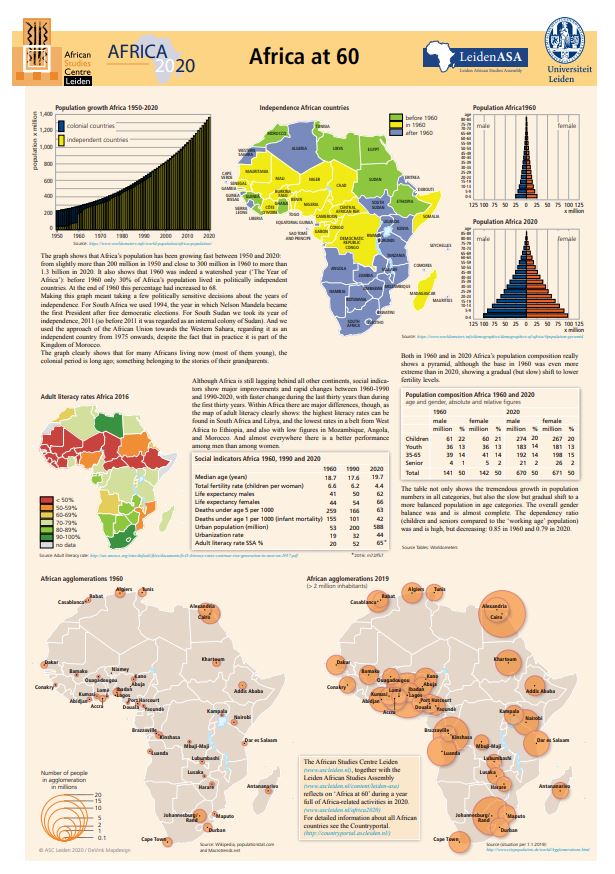 On the occasion of the Africa 2020 year, the African Studies Centre Leiden has compiled a thematic map showing a number of developments in African countries during the last sixty years, relating to: year of independence, population growth, social indicators e.g. literacy rates, agglomerations, agriculture, and state stability-fragility.
See the map and read the full text.
Author(s) / editor(s)
Ton Dietz and Nel de Vink
About the author(s) / editor(s)
Ton Dietz was Professor of the Study of African Development at Leiden University from May 2010 until September 2017. Although he is now officially retired, he is still active as co-chair of the Leiden African Studies Assembly (LeidenASA).
Nel de Vink is owner of DeVink MapDesign.
Full text, catalogue, and publisher website
How to order
The thematic map can be ordered with the Secretariat of the African Studies Centre Leiden (shipping costs): asc@asc.leidenuniv.nl.
Posted on 20 January 2020, last modified on 31 January 2020