Destination Africa: Contemporary Africa as a Centre of Global Encounter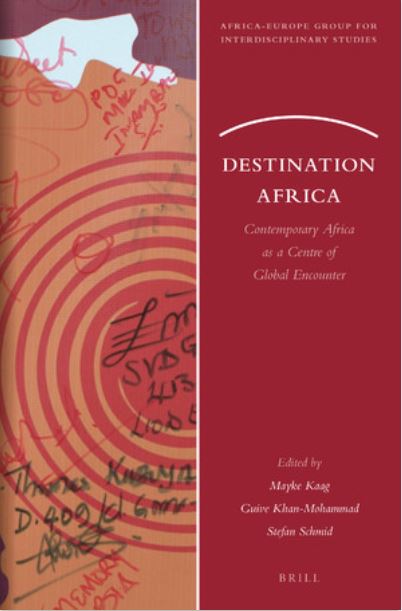 This volume, based on papers that were given at the conference Destination Africa (held in March 2018), challenges received ideas of Africa as a marginal continent and place of exodus by considering the continent as a centre of global connectivity and confluence. Flows of people, goods, and investments towards Africa have increased and diversified over recent decades. In light of these changes, the contributions analyse new actors in such diverse fields as education, trade, infrastructure, and tourism. They show the historicity of many current mobilities towards Africa and investigate questions of agency and power in shaping encounters between Africans and others in Africa today. In this way, the volume contributes significantly to debates on Africa's position in global mobility dynamics and provides a firm basis for further research.
This book has appeared in the series Africa-Europe Group for Interdisciplinary Studies, volume: 24, published by Brill.
Volume editors: Mayke Kaag, Guive Khan-Mohammad, and Stefan Schmid
Contributors of the book: Gérard Amougou, Alice Aterianus-Owanga, Eric Burton, Jean-Frédéric de Hasque, Mayke Kaag, Guive Khan-Mohammad, Fabien Nkot, Miriam Adelina Ocadiz Arriaga, Ute Röschenthaler, Alexandra Samokhvalova, Stefan Schmid, Sophia Thubauville, Di Wu.
Author(s) / editor(s)
Mayke Kaag, Guive Khan-Mohammad, and Stefan Schmid
About the author(s) / editor(s)
Mayke Kaag is Associate Professor Political Anthropology of Africa's Global Connections at the African Studies Centre, Leiden University. Her research broadly focuses on African transnational relations, including land issues, global providers of Islamic education in Africa, and engagements with the diaspora.
Guive Khan-Mohammad is a sociologist and currently working as a scientific adviser at the Rector's Office of the University of Geneva. His research mainly focuses on African–Asian transnational connections, entrepreneurship, and state–business relations in Sub-Saharan Africa.
Stefan Schmid is a human geographer and the scientific coordinator of the Centre for Interdisciplinary African Studies at Goethe University, Frankfurt. In this capacity he manages research projects on Africa–Asia relations and organises programmes promoting young career academics in Africa.
Full text, catalogue, and publisher website
Posted on 24 June 2021, last modified on 8 July 2021