CRG Book Seminar Series: Why Animals Matter - Are We Smart Enough to Know How Smart Animals Are?
Primary tabs
This seminar series is organised by the CRG Trans-species perspectives on African Studies
The foundations of the initiative to start the Collaborative Research Group 'Trans-species perspectives on African Studies' are the scientific advances in animal sentience and animal cognition that show that humans and animals do not differ in kind but in degree. Following from this is the CRG's suggestion that 'as animals are like us' they should be considered part of 'the social' and included in our social sciences research and theorizing. Whatever we think and theorize about humans now must be extended to include animals as well. This also holds for African Studies.
But what kind of 'scientific evidence' are we actually talking about? In an initial series of three seminars the convenor of the CRG, Dr. Harry Wels, will discuss three books that present the scientific evidence for animal sentience and cognition, the first of which is:
Frans de Waal (2016) Are we smart enough to know how smart animals are? New York, London: W.W. Norton & Company
The other books to be discussed are:
Mark Bekoff (2007) The emotional lives of animals: A leading scientist explores animal joy, sorrow, and empathy and why they matter, Novato (CA): New World Library
Date: 7 October 2019, 4-5 pm
Gay Bradshaw (2009) Elephants on the edge. What animals teach us about humanity, New Haven, London: Yale University Press
Date: 11 December 2019, 4-5 pm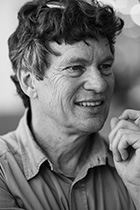 Harry Wels is the Publications Manager of the African Studies Centre Leiden. He is trained as an organizational anthropologist.
His research is primarily focused on South and Southern Africa and is about organizational structures of cooperation in the context of nature conservation and touches on and relates to broader issues in Human-Animal studies.
Harry Wels is Research Fellow at the University of Pretoria.
Date, time and location
Location and room to be announced
Posted on 10 September 2019, last modified on 13 September 2019