Community Country Meeting Nigeria: Elections panel discussion
Primary tabs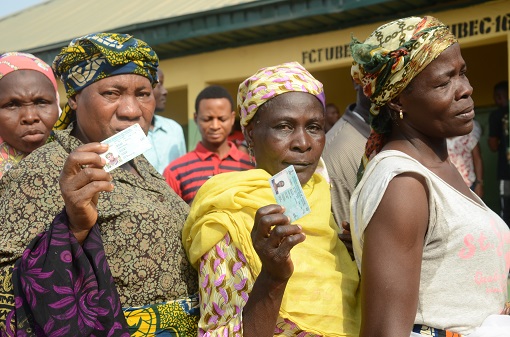 Women show their voter ID cards during the 2019 Nigerian elections. Photo credits: Commonwealth Secretariat (via Flickr).
This event will be held physically in Leiden. For those who are unable to travel to Leiden, a link to an online platform will be sent one day before the start of the event.
On the occasion of the upcoming general and presidential elections in Nigeria (scheduled for 25 February) the ASCL, in collaboration with the Faculty of Governance and Global Affairs and the ASCL Community, will organise a panel discussion.
The panellists are:
Ms Ola Abagun (INCLUDE Knowledge Platform);
Ms Victoria Manya (ASCL PhD candidate);
Dr Emmanuel Adeniyi (Federal University, Oye-Ekiti);
Dr Henry Mang (Nigerian Army University), and;
Mr Gaddafi Abubakar (Bayero University, Kano).
The panel members will each briefly give their view on the possible outcomes of the elections. This will be followed by a discussion led by Dr David Ehrhardt (FGGA, Leiden University), and questions from the audience. A word of welcome will be given by Arie van der Wiel, chair of the ASCL's Societal Advisory Council and former Netherlands ambassador to Nigeria.
Date, time and location
Pieter de la Courtgebouw / Faculty of Social Sciences, Wassenaarseweg 52, 2333 AK Leiden
Posted on 2 February 2023, last modified on 13 February 2023