Annual Meeting Leiden African Studies Assembly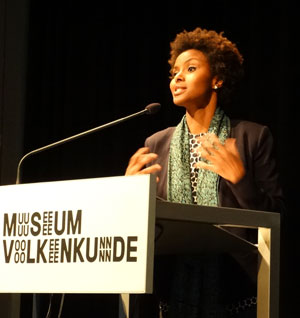 The Leiden African Studies Assembly (LeidenASA) held its second Annual Meeting on Thursday 8 December. Leiden University has some 120 scholars who work on Africa-related research and education. Sada Mire, Assistant Professor in Archaeology, gave a lecture about the importance of a multidisciplinary approach to the study of the African Past. Mire carried out the so far most comprehensive survey of archaeological sites in Somaliland, published in the African Archaeological Review.
Mirjam de Bruijn, co-coordinator of LeidenASA with Ton Dietz, presented the plans that are being explored for the years to come, such as a minor in African Studies and a minor in Frugal Innovation in Africa within the Leiden-Delft-Erasmus partnership, e-learning possibilities in African Studies, and partnerships with academic centres in Africa.
This was followed by the prize-giving ceremony of the Africa Thesis Award 2016 to Tanja Hendriks for her thesis 'Home is always home'. (Former) Street Youth in Blantyre Malawi and the Fluidity of Constructing Home, that she wrote for the Research Master in African Studies at Leiden University. Nicky Pouw, chair of the jury, called it an 'extremely well written, engaging thesis'. Also the runner-up, Leonor Faber-Jonker, was cheered for her thesis 'More than just an object': a material analysis of the return and retention of Namibian skulls from Germany. And finally, Nicky Pouw was thanked by Ton Dietz for the three years in which she served as the excellent chair of the jury of the Africa Thesis Award.
Posted on 12 December 2016, last modified on 9 January 2018