Using RSS

About RSS
You can use RSS feeds to get the latest information from websites, scientific journals and other sources without having to search the web.
RSS stands for "Really Simple Syndication" or "Rich Site Summary". RSS feeds are XML documents with information such as headlines, abstracts and images and can be displayed on a web page or read using an RSS reader.
Click image to view a clear and simple explanation of RSS (video: 3.45 mins)
How do you receive RSS feeds?

RSS feeds via your Browser
Most modern web browsers have RSS support built in, including Internet Explorer v7+, Firefox, Opera and Safari. Generally, by clicking on the (orange) RSS icon (see above), a feed will appear which can be added to your Favourites or Bookmark Toolbar. Refer to your browser for further instructions on how to subscribe to a feed. You could also install a dedicated feed reader on your computer or choose a web based feed reader service, such as feedly.

RSS feeds via your E-mail (Microsoft Outlook)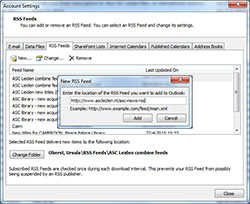 First copy the URL of the RSS Feed you require.
Tip: In most web browsers, on a web page, you can right-click the (orange) RSS icon and then copy the shortcut or copy link location to the clipboard.
In Outlook 2007: On the Tools menu, click Account Settings.
In Outlook 2010: Click the File tab, choose Account Settings.
Choose the RSS Feeds tab and click New.
In the New RSS Feed dialog box, type or press CTRL+V to paste the URL of the RSS Feed from the clipboard into the RSS Feed location box. For example, http://www.ascleiden.nl/asc-news-rss
Click Add.
Click Ok.
Want to keep track of new titles on a specific African country or subject?
Subscribe to the Library Alert Service on African Studies
Posted on 29 November 2011, last modified on 15 May 2020