Sista brevet från Kasempa – the last letter from Kasempa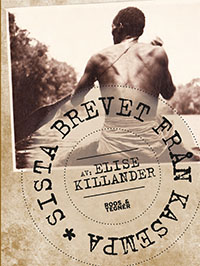 In the autumn of 1912 21-year-old Henrik Stiernspetz embarks on a journey to Africa to seek his fortune. He does not fit in Stockholm's bourgeois society and dreams of adventure. After the outbreak of the First World War and a failed business in Cape Town, Henrik travels to Kasempa in Northern Rhodesia (now Zambia) where he opens a trading post.
In one of his many letters to his family in Sweden Henrik promises to return as a wealthy man. When, after many years, he finds copper, it looks like he will succeed. But the return trip is repeatedly postponed and, around Christmas 1927, all correspondence ceases. In February 1929, his mother is informed by the Swedish Ministry of Foreign Affairs that her son has died. Despite a couple of investigations, Henrik's family never discovered what happened to him.
A century later, Elise Killander, journalist, cultural scientist and a distant relative, is given access to the letters, pictures and objects that Henrik sent home. Elise decides to find out why her great-grand uncle never came back. Did he get married and have children? Did he really find gold? And was this the reason that he was robbed and murdered, as the family had feared over the years?
'The last letter from Kasempa' is a unique historical document. It combines Henrik's photos and letters and includes comments by Elise Killander, which narrate an exciting story about the discovery-loving Swede in Africa in the early 1900s. The library's copy contains a handwritten dedication by the author to Dick Jaeger, who did some research for the book in Zambia and who donated his copy, together with several other publications on Zambia, to the library.
Read the introduction (pdf)
For more information about donations to the library see gifts

Ursula Oberst
Posted on 22 February 2016, last modified on 28 May 2020