Climate change and intergenerational justice
As a follow-up to the inspiring visit and keynote address by Dr Graça Machel on 27 October 2023, this Library Highlight showcases some recent publications focused on the pressing issue of climate change and intergenerational justice in Africa.
Climate justice
As reiterated at the inaugural Africa Climate Summit, which took place last September in Nairobi, climate justice remains at the centre of discussions on climate change in Africa. Climate justice is a concept that points to the enormous inequalities underlying climate change issues, particularly in Africa. While the continent of Africa contributes the least to climate change in terms of greenhouse gas emissions, it suffers most from its devastating effects. But this goes beyond comparing continents: within countries and communities, too, it is often those least responsible for climate change who suffer the most. Climate justice activists therefore argue for making human rights and equality issues a starting point for taking climate action.
Intergenerational justice
In her speech, Dr Machel emphasized the central position human rights and justice should take in climate change issues, and addressed the special role that children and youth have to play in this. According to the Children's Climate Risk Index, measuring exposure and vulnerability to the impacts of climate change, more than 35 African countries fall into the 'high' or 'extremely high' categories. Hence the input of children as agents of change is extremely important. Many examples of child-led or youth climate action are already taking place throughout Africa. These children and youth activists should be at the forefront in discussions on climate change, after all, they are the ones who will have to deal with the consequences of climate change in the future. As was stressed during the speeches on 27 October, older and younger generations need to work together on this issue.
Recently acquired books
One of the best-known young climate activists from the African continent is Vanessa Nakate. Her book, A Bigger Picture: My fight to bring a new African voice to the climate crisis, recently arrived in the ASCL Library. In it, she describes how a number of small steps she took to put climate change on the agenda in her home country, Uganda, snowballed into her making contact with other youth climate activists around the world, and her becoming an influential voice from Africa in the global climate movement.
In A Just Transition to a Low Carbon Future in South Africa, edited by Nqobile Xaba and Saliem Fakir, contributors reflect on the concept of just transition, defined by the ILO as "greening the economy in a way that is as fair and inclusive as possible to everyone concerned, creating decent work opportunities and leaving no one behind." Authors reflect on this issue from ethical, economic, technological, and social perspectives.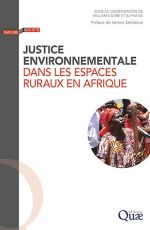 In Justice environnementale dans les espaces ruraux en Afrique, edited by William Daré and Alpha Ba, contributors focus on environmental justice in Africa's rural areas, while taking into account the power dynamics between, and different perspectives of, the actors involved. Case studies focus on water resources, extractive industries, and the role of local communities in South Africa, Mozambique, Senegal, Gabon, Guinea, the Democratic Republic of Congo, Côte d'Ivoire, and Northern Ghana.
In Environmental Justice and Oil Pollution Laws: Comparing enforcement in the United States and Nigeria by Eloamaka Carol Okonkwo, the author examines the effectiveness of law enforcement in the oil and gas industry, viewed through the lens of environmental justice. She takes the Niger Delta in Nigeria as a case study, and draws on examples from the United States in order to provide a comparative analysis between the two settings and to pinpoint pitfalls in the Nigerian situation.
Germa Seuren
Related links
To receive updates on scientific publications on this subject, subscribe to the ASCL Library alert service and indicate "climate change" under free search terms.
Posted on 6 November 2023, last modified on 7 November 2023