Wives-For-Hire: Revealing the practice of imposing fake wives in dispossessing family land in Africa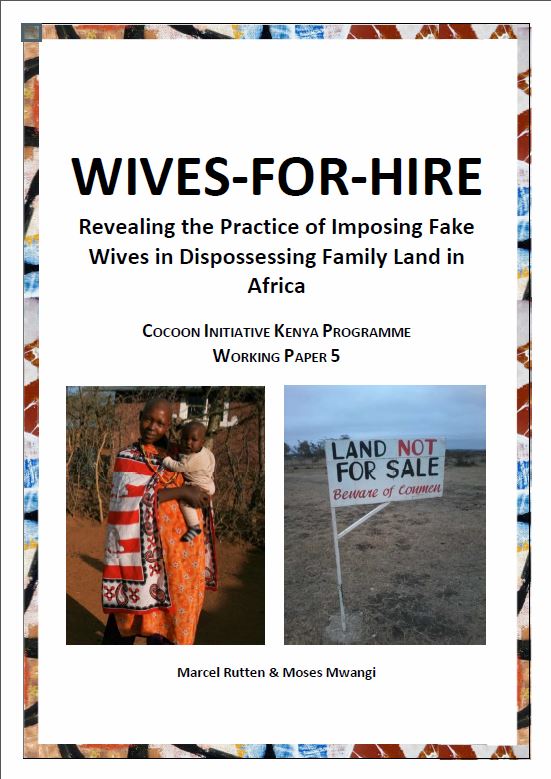 Cocoon Initiative Kenya Working Paper 5, September 2016
Should African women own land? That question was posed in a booklet by the Kenyan Human Rights Commission (KHRC) published in 1998. The answer to the topic raised is not as straightforward as one might think, as it depends on who the question is aimed at as well as the various tenure regimes, i.e. statutory or customary, that are in existence in a specific area. Are women discriminated against in land allocation and ownership? That question is much easier to answer in the affirmative. In this article, we will provide a short historical overview of land policy and land law development in Kenya and the way these have affected and still impact the position of women in Kenyan society. In particular, we will present detailed cases of the use of fake wives by cheating husbands, in an attempt to convince the local Land Control Board that the intended sale of part of the family land is conducted with the full approval of the other household members. The phenomenon of fake wives is referred to locally as "Wives-for-Hire". By revealing this information, we hope to contribute to the calls from groups monitoring women's land rights for the dissemination of knowledge about questionable practices.
Author(s) / editor(s)
Marcel Rutten and Moses Mwangi
About the author(s) / editor(s)
Marcel Rutten is a senior researcher at the African Studies Centre Leiden. His research activities concentrate on natural resource management, notably of land and water, in (semi-)arid Africa. Currently three research programmes are being carried out: conflicts over land; famine and drought coping strategies; and sustainable development of low-cost water sources (shallow wells).
Moses Mwangi is a senior lecturer at the South Eastern Kenya University (SEKU-Kitui Town campus) in the School of Water Resources Sciences and Technology, where he also chairs the Department of Hydrology and Water Resources Management.
Posted on 12 September 2016, last modified on 13 October 2016