Ustadh Mau Digital Archive (UMADA) Project Launch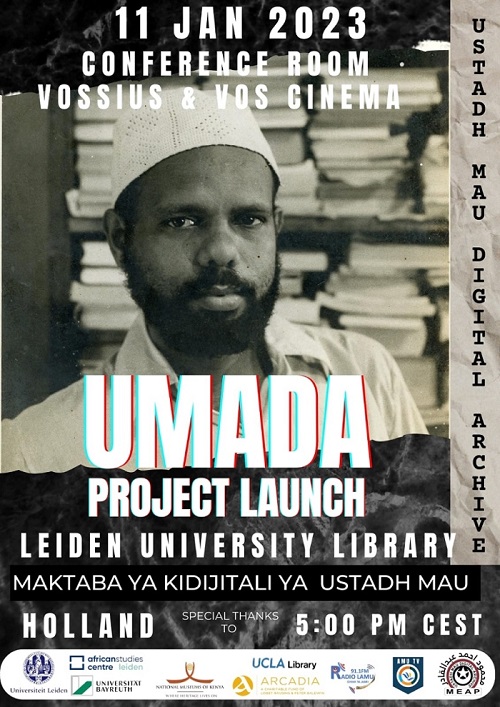 The Ustadh Mau Digital Archive (UMADA) is among the UCLA Library 29 international cultural preservation projects granted in 2021. It aims to digitise roughly 2,000 items from the personal library of prominent poet and imam from the Indian Ocean island of Lamu, Kenya, Mahmoud Ahmed Abdulkadir. This project is supported by the Modern Endangered Archives Program at the UCLA Library with funding from Arcadia, a charitable fund of Lisbet Rausing and Peter Baldwin. The Modern Endangered Archive Program is inspired by researchers' commitment to cultural heritage preservation and is proud to support the work we do. After a kick-off training workshop held on Lamu island in October 2022, the UMADA team is glad to launch the project at Leiden University. Africanists, Islamic studies colleagues, librarians, information specialists and researchers documenting flat and audio – tangible and endangered – collections are all warmly welcome to join this informative and festive event!
This project launch is organised by Leiden University Centre for the Arts in Society (LUCAS).
Preliminary programme
17.15 Rachel Deblinger, Director of the Modern Endangered Voices Program (UCLA Library)
17.30 - 18.00 Roundtable discussion with archival partners from: Germany (Bayreuth University), ASC Library (Leiden), Lamu Fort Library (Kenya)
18.00 - 18.15 Video pitches from the UMADA project team: some exciting materials
18.15 - 18.45 Documentary screening: interview with Ustadh Mau on the making of his library, its meaning and his wish for the future
18:45 - 19:00 Q&A
19:00 Drinks and snacks
Date, time and location
University Library, Witte Singel 27, 2311 BG Leiden
Conference Room Vossius and Vos cinema
Posted on 16 December 2022, last modified on 16 December 2022