Transoceanic Print Histories: Twentieth-Century Swahili Muslim Networks in the Indian Ocean
At a time of sociocultural changes that started questioning established Islamic learning traditions (independence years, post-Cold War/book market liberalisation), printing diasporas exerted influence on the circulation of Islamic texts in East Africa: published overseas (Cairo, Beirut, and the Indian subcontinent) and/or locally reprinted on the Swahili-speaking Islamic coast, they came to play a seminal role in negotiating Swahili Muslim literary culture. How have transoceanic religious and intellectual networks operating beyond national borders become intertwined? In this paper by Annachiara Raia, the beginnings of Swahili Muslim book publishing—and the entities underpinning it, such as Nairobi's Islamic Foundation Center, a Pakistani-oriented charitable foundation—will be outlined. Raia delves into the history of Indian-and-Swahili family-run publishers Adam Traders based in Mombasa in order to tackle hitherto neglected transoceanic connections and patterns of influence across the sea.
About the author(s) / editor(s)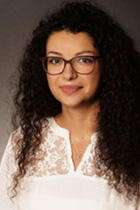 Annachiara Raia
has been University Lecturer in the LUCAS department of the Faculty of Humanities and at the African Studies Centre Leiden since March 2019. The main focus of her research is Swahili literature and, in particular, the Swahili adaptation of one of the most widely travelled stories of mankind, the Islamic Story of Joseph, Qiṣat Yūsuf).
Full text, catalogue, and publisher website
Posted on 19 April 2023, last modified on 19 April 2023