Thematic map: Subnational Human Development Index (SHDI) of Africa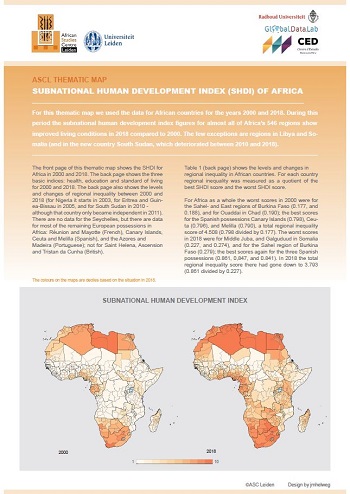 For this thematic map the subnational human development index data for African countries for the years 2000 and 2018 have been used. During this period, the subnational human development index figures for almost all of Africa's 546 regions show improved living conditions in 2018 compared to 2000. The few exceptions are regions in Libya and Somalia (and in the new country South Sudan, which deteriorated between 2010 and 2018). The back side of the map shows the three basic indices: health, education and standard of living for 2000 and 2018. It also shows the levels and changes of regional inequality between 2000 and 2018.
The thematic map is based on the collaboration between the Global Data Lab of Radboud University (Jeroen Smits and Jet Wildeman), the Center for Demographic Studies of the Autonomous University of Barcelona (Iñaki Permanyer), and the African Studies Centre Leiden of Leiden University (Ton Dietz). The Subnational Human Development Database of the Global Data Lab started in June 2018; we used version 4.0 of March 2020 (covering 187 countries, and 1765 sub-national regions).
Read the full map (pdf).
Author(s) / editor(s)
Jeroen Smits, Iñaki Permanyer, Jet Wildeman, Ton Dietz
About the author(s) / editor(s)
Jeroen Smits, Global Data Lab of Radboud University
Iñaki Permanyer, Center for Demographic Studies of the Autonomous University of Barcelona
Jet Wildeman, Global Data Lab of Radboud University
Ton Dietz
, African Studies Centre Leiden, Leiden University
Posted on 6 October 2020, last modified on 2 September 2022